Professional Stump Grinding Services For Rockland County
Are ugly stumps ruining the aesthetics of your garden or yard? Call Suffern Tree, the stump grinding professionals servicing Rockland County since 1978.
Suffern Tree Service provides expert stump removal in Rockland County
We have invested in specialized equipment to grind within inches of sidewalks, driveways, fences, edging, or other materials. We can grind the stump below grade so that grass, and even future plantings, can flourish. Suffern Tree will never cut corners and is dedicated to safety and the highest level of service; all at very fair rates. In a word, they deliver exceptional value
Are "Do It Yourself" methods of stump removal as safe as some say?
Many "do it yourself" stump removal systems proclaim to be fast and easy, replacing a professional stump grinder. Stump removal would not be as large a percentage of our business if those methods were that fast or that easy. Most "do it yourself" methods involve months of waiting for the caustic chemicals involved to work. And do you want to be introducing these chemicals into the environment where your children and pets play?
Suffern Tree–A Value Leader For Stump Grinding in Rockland County
Do you ever wonder why so many of your neighbors have chosen Suffern Tree for all of their tree care? There is a reason why they have had many customers over two and even three generations. There is no magic formula; it comes down to providing excellence each and every day, treating people with respect and delivering value for their hard-earned dollar. This way of doing business always has been, and always will be, the hallmarks of Suffern Tree. If you want professional stump grinding and live in Rockland County o – call Andrew, the owner, at Suffern Tree Service – 845-353- 4505 today!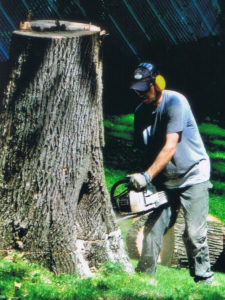 Suffern Tree prepares a tree for stump removal and grinding
They service all of Rockland County